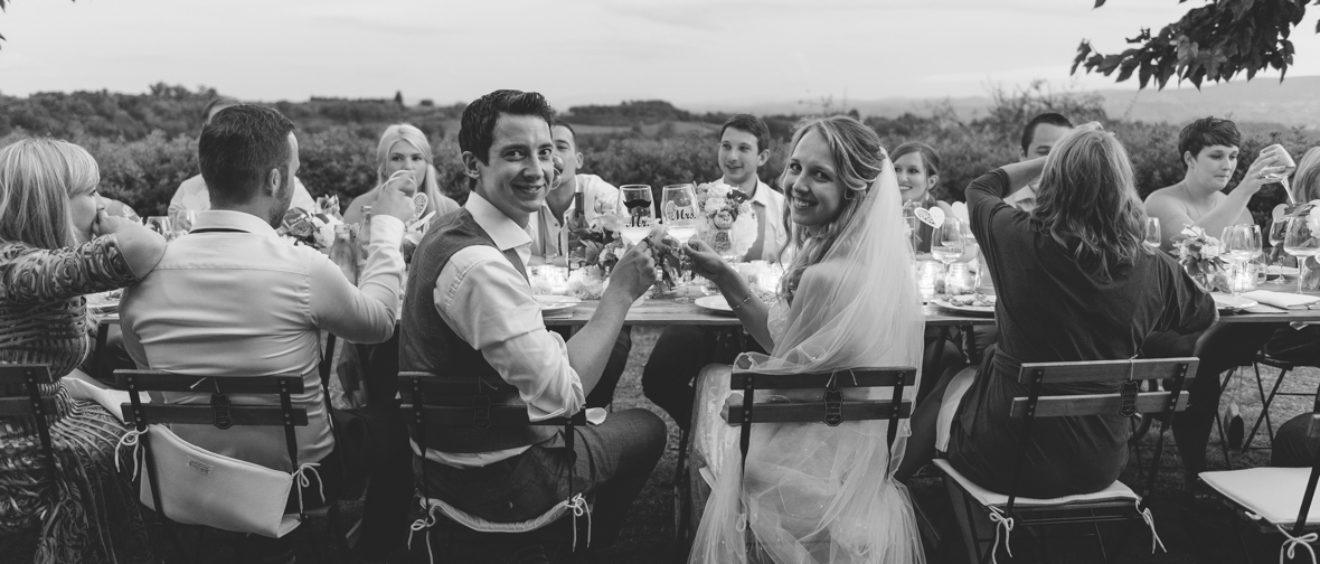 Doreen & Arnoud: "With punctual, the most beautiful day of our lives!"
Our Tuscan wedding was a dream come true!
In September 2015 we visited the wedding location for the first time. We immediately fell in love with the castle. The rooms, the garden, the swimming pool and of course the beautiful surroundings made the picture complete – here we wanted to get married !! In this weekend we met Roos, Sonja and Milos and immediately had a good feeling. We also selected the catering. We soon knew that it was going to be Kitchen Wishes. We were invited to Sonja and Milos in a beautiful country house near Florence where we got a delicious taste of the wedding dinner, with a tour through the vines for dessert !! The passion for food and wine splashed off! With these people in the organization of your wedding it can not go wrong anymore.
On 10 June 2016 it finally happened. The day before our wedding it was still raining but as if it was destined, our wedding day became a shining day! Roos has ensured that everything went smoothly on our wedding day. The day began with the legal ceremony in the chapel. That was very nice, especially the 3 laps around the chapel with all the guests (this would bring luck – so far true!).
The lunch organized by KW was perfect – they had a stall with tasty sandwiches. Then hair and make-up by Maria! Roos brought us into contact with Maria and we went to her home a few times (in Florence) for some trial sessions! A very nice experience! Mary is very sweet and works wonders with your hair.
The symbolic ceremony in the garden of the castle was the highlight of the day. The pergola was nicely decorated and the duo of the cello and vocals during the ceremony and the toast was fantastic and created a very intimate and warm atmosphere! When we arrived at dinner, the table was unprecedentedly beautiful, thanks to Sonja, it was like you were in a pinterest picture! The food was also the way we had hoped. The perfect Italian setting for some speeches and anecdotes. Finally, until midnight, we have been dancing (gabbling, polonaise – you name it) to the music of DJ Paolo. The day flies by, but luckily we have the beautiful pictures of Milos! We are very curious about the end result, but the preview we have received promises much good!
In short, we had a crazy time! The organization was phenomenal and praised for getting married in Tuscany. If we were to do it over, we would do it exactly like that again. It has surpassed our wildest expectations and it was the most beautiful day of our lives!
Love, Doreen and Arnoud