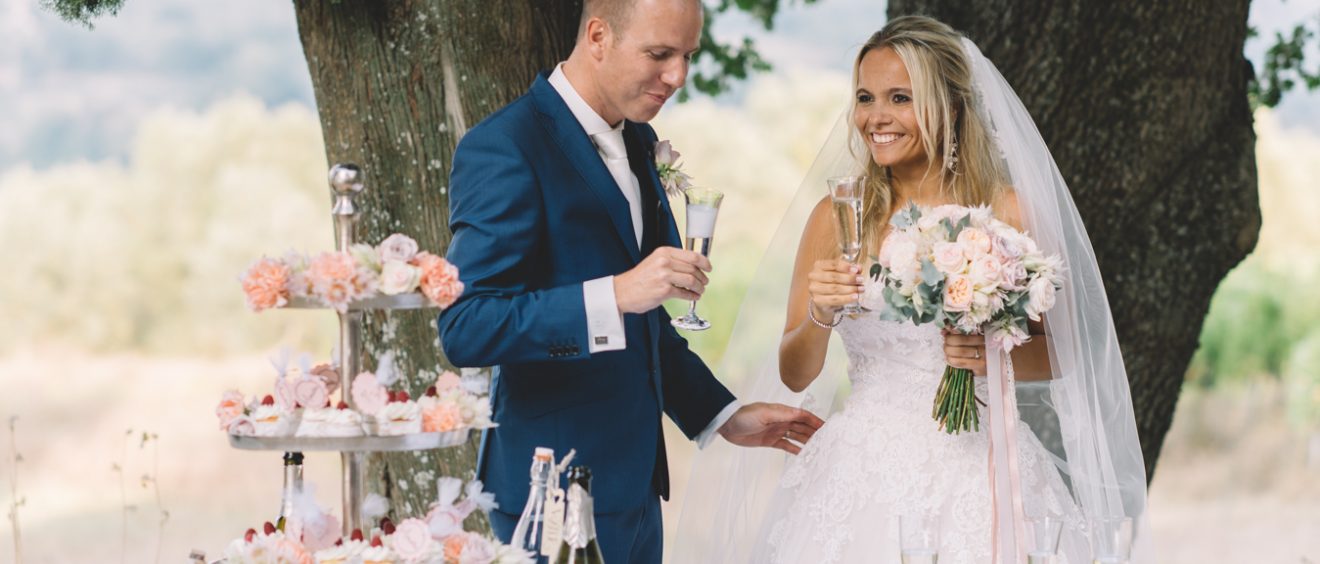 Linsey & Dennis: "Love, passion and professionalism"
Dear Rose, Sonja and Milos,
Getting married in Tuscany made our most beautiful dreams come true! What are you three incredible toppers! Three individuals who do their work with so much love, passion and professionalism. I still remember as the day of yesterday the very first toast table that I saw on social media. Wow, what an impressive image – I could not let go, and came out on the website of 'Wedding in Tuscany'.
In December of 2015, the time had come. In the most beautiful spot of the Maldives, Dennis asked me to marry me. I, Linsey, have always been bold enough to say that getting married does not need me so much. A wedding dress was not my thing at all. But if I ever got married, I knew I did not want to celebrate it in a standard way, and in the presence of all of our loved ones. It soon became clear that we wanted to celebrate our wedding in sun-drenched Italy! So that memory came back to that unique toast table at that beautiful place in Tuscany.
The very first contact with Marrying in Tuscany was still very exciting for us. We had a budget in mind, but we quickly noticed that we wanted to leave it for what it was. What was important to us was realizing our dream! After many phone calls and e-mails, we flew to Tuscany for the first time to meet Roos (the wedding planner). But not only with Roos, also with Sonja (the wedding stylist) and Milos (the photographer) we met during that first weekend. What an enthusiastic people came together! The location overwhelmed us immediately. A large estate with a great view … for us and our dear family and friends alone? I saw it all for me: long, beautifully decorated tables full of Italian food and a company that glistens in the rays of the setting sun; no 'ordinary' Dutch wedding, but a dream wedding in beautiful Tuscany.
After our first acquaintance, organizing the wedding really started. Details, details and more details – what I found important to them! I could not get enough of it and could not wait until I received the first images of Sonja. Not only the flowers, but also details such as tables, chairs, tablecloths and even door hangers. And how about the delicious Italian food in combination with the selected wines for us? There was a choice for every aspect of the preparation. It was a great time of anticipation that took an hour (or two or three or four) every day. The last weeks lasted a long time, and the tension built up ….
On September 11th the time had come: our guests arrived at the airport. This is where the adventure really began. Entirely in style, we welcomed our guests with a banner. How happy we were to show them the beautiful Tuscany, and our location in particular. The arrival at the location was arranged down to the last detail. From here I want to give all the praise to Trouwen in Tuscany and the team of the castle. There was a beautiful, charmingly dressed toast table waiting for us when we came in. After a word of welcome from Dennis and a moment of toasting, it was time to show our guests their rooms: elegant, romantic suites, entirely in the style of the wedding. There was a relaxed afternoon with for some a walk through the rolling hills, and for others a refreshing dip in the pool of the castle. That evening, the first evening, a tastefully laid table and barbecue buffet awaited us. We ate, drank, danced, and laughed until late at night, and were already enjoying each other's presence. What was that nice! Can it be even more beautiful? Yes, it can be even better.
Our wedding day broke up! That brings us to September 12, 2016. A day to never forget, never to let go.
While writing this review, I get tears in my eyes. When I think back to Roos and Sonja and the whole team that supported them, I do not find the words to express my gratitude. What are we Trouwen in Tuscany grateful for realizing our dream, our fairytale. It does not let us go, it does not let our guests go … Everyone loved it. So much passion, so much love, and really our story that was told. With a tear, but also with a big smile. Everything, but everything was right: the beautiful location, the nice weather, the emotional ceremony, to the magical dinner and the oh so cozy party that dragged us into the early hours … It felt like we were one big Italian family together . Zememoedelijk, so intimate!
Our wedding day started in a very relaxed way. After a delicious breakfast we went to the pool. I always postponed the moment of getting ready. Yet this moment – together with my mother, a friend and the hairdresser – was very special. I still get goose bumps from the result. I was allowed to walk down the grand staircase, on my way to the romantically decorated pergola, where the 'first look' would take place – the first time Dennis saw me in my wedding dress, surrounded by all our dear friends and family. Not only this moment, but also the ceremony was very warm and emotional. We are married in a beautifully situated little chapel from where we enjoyed an amazing view. The chapel was decorated with a white carpet, with fragrant flowers and candlesticks. My father brought me to the altar, and gave me the far away to Dennisweg. The ceremony was surrounded by music, and Dennis and I spoke our personal vows to each other. It was an emotional service, which we completed with three laps around the chapel. A very precious moment that can not be expressed in words. How special is it when you realize that you were allowed to experience this with all your loved ones – and in particular my grandfather and grandmother. It still feels like we are living in a dream, and do not want to wake up …
After the ceremony our guests went back to the wedding location. There was a delicious aperitif of Italian snacks waiting for them, while Dennis and I went for the photo shoot. After the photo shoot it was time for the congratulations and speeches, and there was an opportunity to prepare for dinner. Another magical moment: what a dream table full of flowers and candles that took us on a culinary journey through Italy! After cutting the wedding cake it was time for the opening dance, after which a party was celebrated until deep into the night …
And then, the next morning, you wake up, and there is even an opportunity to have breakfast with your guests and together enjoy an unforgettable, magisterial day. Far too soon, after this breakfast, our dream weekend came to an end!
We recommend Trouwen in Tuscany to everyone! It is just over and we have already received the first photos from Milos. What are they beautiful! Soon we will receive Wendy's film, in which we can look back to our dream day with a lot of love and joy. And not entirely unimportant: we have received a few delicious bottles of Tuscan wine to bring back the feeling. We would like to book you already for our first jubilee in five years. Can that be recorded already? 😉
A very big hug and kiss from us,
Dennis & Linsey